Single Color Double Sided Rental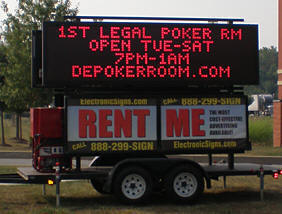 Turn drive-by traffic into walk-in customers with this double-sided rental trailer.
Rental LED signs are an excellent way to advertise a one-time event, special sales promotion or to just try out an LED sign before making a purchase.
Overall Trailer Dimensions:
Length 18? x Width 6?-6? x Height 8?-4?
Screen Size: 3?-4? H x 12? W
Recommended Viewing Distance of 100? ? 1600?
One Line of Text is up to (10) 33 inch Characters
Two Lines Text up to (10) 14 inch Characters
Three Lines of Text is up to (16) 10 inch Characters
Four Lines Text up to (19) 7 inch Characters
110 volt power or generator available
Optional: Design two custom panels for your business
We recently used the Roadstar and the Solar electronic signs at two of our retail stores for one our biggest sales of the year.
The store managers informed me that these signs were great for increasing foot traffic and they noticed an increase in potential customers.
Angie Blank
Marketing Manager
Leisure Fitness
For more information, please feel free to contact us at 800-341-6397.